UR12 Podcast Starter Pack
The easy-to-use production toolkit to get you creating podcasts quickly and in great quality on your computer or iOS device. The UR12 Podcast Starter Pack combines a dual-channel USB 2.0 audio interface, quality condenser microphone and all mic accessories with a full software suite. It's a complete, studio-grade social media production package.
24-bit/192 kHz for pristine sound quality
General features
The robust metal casing and exceptional build quality of UR interfaces makes them rugged enough to…
UR interfaces feature high speed USB 2.0, which provides fast, reliable and seamless connectivity…
24-bit/192 kHz audio resolution
The premium converters used in the UR-series deliver great audio quality, thanks to a maximum…
Latency-free hardware monitoring with switch
The UR12 features latency-free hardware monitoring with an easy-to-use monitor source switch that…
Class-A D-PRE mic preamps
The UR series features Yamaha's highly acclaimed D-PRE preamps, offering recording quality…
Compatible with all major audio software
The UR12 interface is compatible with all major audio software which supports the ASIO, Core Audio…
You can combine UR units with an audio application like Steinberg's Cubasis for iPhone and iPad…
Loopback function for streaming
The Loopback function of the UR interfaces offers an easy way to stream performances live to the…
Included software
WaveLab Cast makes your podcast or video sound spectacularly clear and intelligible. Use sound…
Based on Steinberg's award-winning advanced music production system Cubase Pro, Cubase AI is a…
The UR seamless integration with iPhone and iPad is enhanced by the inclusion of Cubasis LE, for…

The ST-M01 studio condenser microphone
The ST-M01 studio condenser microphone includes the heritage of many high-quality studio mics. With excellent sensitivity and a wide frequency response for recording speech, singing or any musical instrument, it captures every nuance of the signal in excellent quality.

The included accessories
These qualities are enhanced by the included pop screen to reduce noise, a low noise microphone cable to connect the ST-M01 to the UR12 and a tabletop mic stand to help you place the microphone in the best position.
Advantages Of Using The UR12 Podcast Starter Pack
Become a podcast pro with the complete package
Share your thoughts, inspiration, ideas and news with the world by recording podcasts for broadcast on any online medium, or write them to audio files for distribution or download. With this versatile and highly portable production package, you can produce your podcast anywhere — at home, at work, on vacation, even in the middle of nowhere! With seamless PC/Mac computer and iOS compatibility, it has everything you need to become a true podcast pro.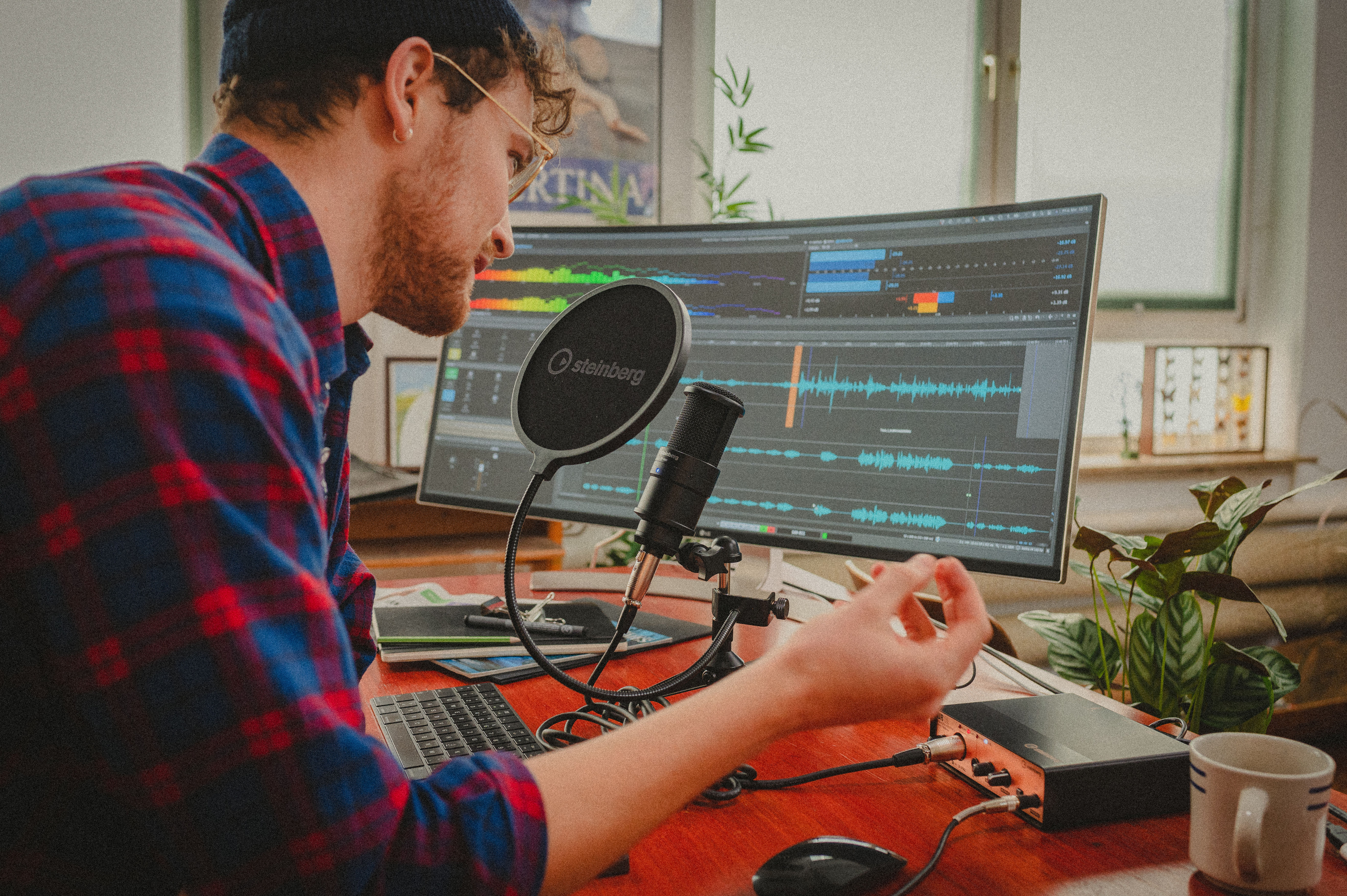 Attract and entertain followers by live streaming
Streaming and vlogging are great ways to reach new audiences, as well as entertaining your existing followers. The UR12 Podcast Starter Pack provides the ideal platform for you to go live online. The Loopback function lets you easily stream any audio content to live online platforms, with the included condenser microphone, high-quality inputs and included software meaning your audience will hear everything in superb quality.
Work from home in the best audio quality
Nowadays working from home has become commonplace; connecting with colleagues and business partners via video chats is an essential part of the working day for many people. The UR12 Podcast Starter Pack includes everything you need to help improve the quality of your spoken contributions to online meetings. With the high-quality UR12 audio interface, microphone and accessories, you can help your colleagues and business partners to clearly understand your message.
Go live online
The UR12 Podcast Starter Pack includes everything you need for performing online. Whether it's karaoke with social singing apps like Smule, live music, spoken recitals, sports commentaries or just having fun with friends, the iOS connectivity and included high-quality condenser microphone, cable and pop shield make it the ideal online performance package, wherever you are.