Cubasis LE: Create your music on the iPhone or iPad
Cubasis LE is the compact version of Steinberg's mobile multitouch sequencer, providing the same look and feel of its bigger brother Cubasis. Specially designed for quick and easy operation, Cubasis LE makes recording, editing and mixing a breeze, no matter where you are, right there on your iPhone or iPad.
Capture your music on the iPhone and iPad
Up to 4 audio and 4 MIDI tracks
MicroSonic instrument and virtual keyboard
Fullscreen mixer with pro-grade effects

Cubasis LE 3 for iPhone and iPad
Capture your musical ideas when inspiration strikes. Cubasis offers excellent usability, ease of use and lightning fast operation for you to perform, record and mix your music quickly and efficiently – no matter if you're using an iPhone or iPad.

Keyboard and MicroSonic virtual instrument
Create perfect tracks, beats and melodies from scratch on the integrated keyboard and load great-sounding MicroSonic instruments, based on the acclaimed HALion Sonic workstation and Allen Morgan drum kits.

Hook up your external gear
Use your external devices to record your guitar, vocals and more in professional quality. Connect your keyboard hardware including MIDI over Bluetooth LE support.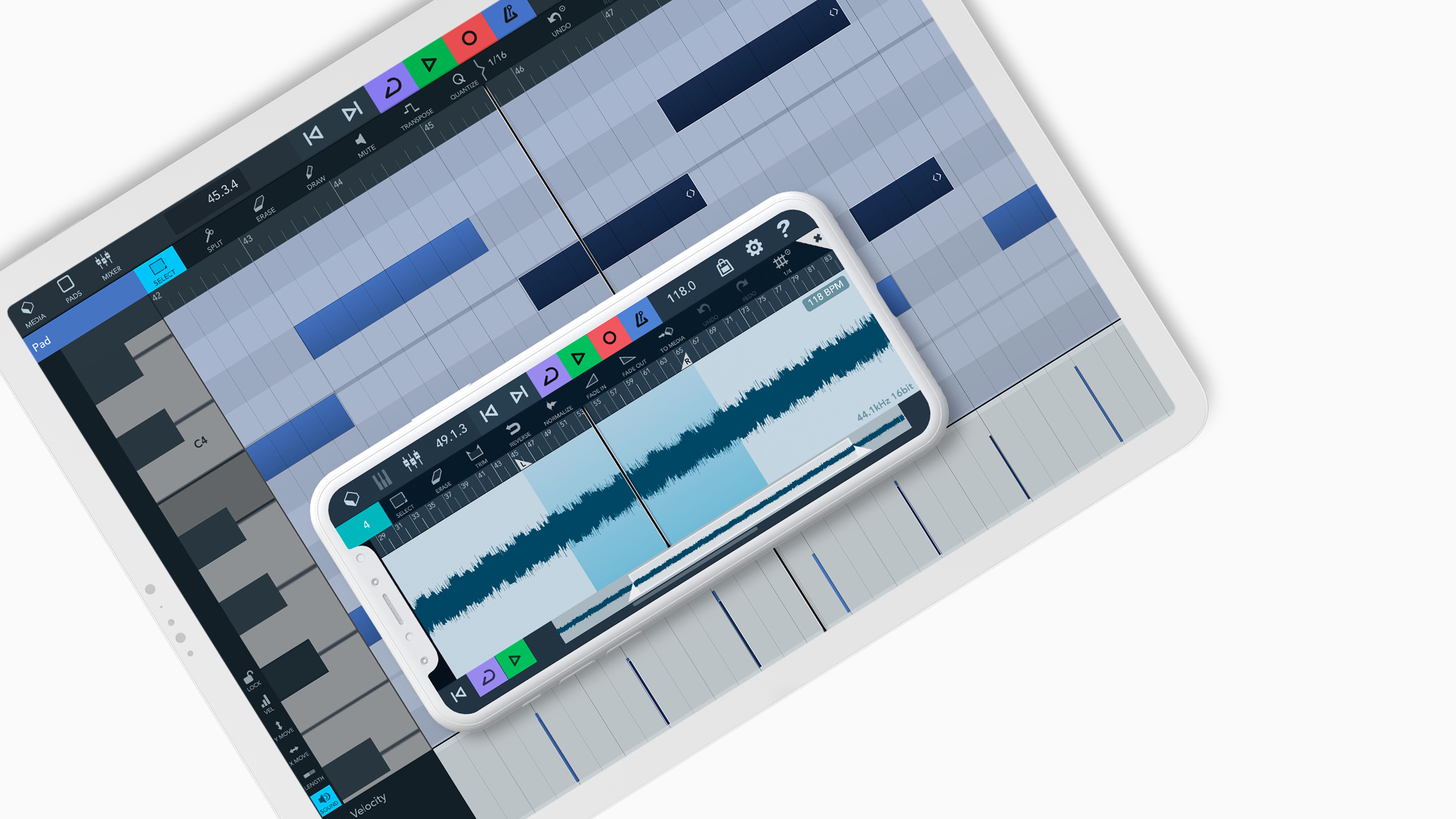 Audio and MIDI editor
Relish the ease of use and intuitive workflows when creating or mastering your audio and MIDI tracks in the editors. Straightforward usability and handy tools ensure you get tasks done at the speed of light.

Full-screen mixer and pro-grade effects
Create perfect sounding mixes thanks to a full-blown mixer, which easily extends to full-screen, and make tracks instantly sound great with pro-grade effects that come with ready-to-use effect presets.

In-app purchases for Cubasis LE
Easily extend Cubasis LE with great in-app purchases. Get all the features of Cubasis 3 in Cubasis LE, extend the app with excellent pro-grade plug-ins from Waves, add the world's most iconic drum machines and much more.

Free Cubasis LE 2 in-app purchase transfer
Have you already purchased instruments or effects plug-ins via Cubasis LE 2 in-app purchases? Once you've installed Cubasis LE 3, simply transfer your previous plug-in in-app purchases from Cubasis LE 2 – free of charge.
Compatible audio hardware
Steinberg
UR 12 • UR22mkII • UR242 • UR44 • UR28M • UR824 • UR-RT2 • UR-RT4 • UR22C • UR24C
• UR44C • UR816C • UR Series • UR-RT Series • UR-C Series
Yamaha
AG03 • AG03-MIKU • AG06 • MD-BT01 • MG10XU • MG10XUF • MG12XU • MG12XUK • MG16XU • MG20XU • MX BK/BU series • MX88 • reface CS • reface CP • reface DX • reface YC • THR30II Wireless • THR10II Wireless • THR10II • UD-BT01
Line 6
Sonic Port • Sonic Port VX
Allen & Heath
ZEDi-8 • ZEDi-10 • ZEDi-10FX
CME
Xkey • Xkey 37 • Xkey Air 25 • Xkey Air 37
ESI
cosMik uCast • GIGAPORT eX • M4U eX • M8U eX • MAYA22 USB • MAYA44 USB+ • MIDIMATE eX • U22 XT • U24 eX • U24 XL • UGM192 • Xjam
IK Multimedia. Musicians First.
iRig Keys Mini • iRig Keys • iRig Keys Pro • iRig Keys I/O 25 • iRig Keys I/O 49 • iRig Pads • iRig Pro Duo • iRig Pro • iRig Pro I/O • iRig HD • iRig HD 2 • iRig Mic HD • iRig Mic HD 2 • iRig Mic Studio • iRig Keys 2 • iRig Keys 2 Pro
studiologic
Numa Compact 2 • Numa Compact 2X • SL-88 Studio • SL-88 Grand • SL-73 Studio • SL Mixface
Tascam
iXR • iXRTP • US-1x2 • US-2x2 • US-2x2TP • US-4x4 • US-4x4TP • SERIES 102i • SERIES 208i • US-1x2HR • US-2x2HR • US-4x4HR
Zoom
UAC-2 • UAC-8 • U-22 • U-24 • U-44
Please note that a supported hardware device is required to unlock the feature set of Cubasis LE. Unless unlocked Cubasis LE runs in demo mode.
Please note: Project export to Cubase requires Cubase Pro 10/Pro 10.5, Cubase Artist 10/10.5, Cubase LE/AI/Elements 10 or higher. The Cubase project import extension has to be installed on the computer for Cubase to be able to open Cubasis projects: www.steinberg.net/cubasisimporter