What's New in Cubasis 3.3
Cubasis is unmatched when it comes to helping you create your music quickly and easily. Enjoy all of the great new professional features we've added, still with all the quick operation, ease of use and unparalleled usability that you rely on. Hook up your external controller to remotely control Cubasis via MIDI Learn, the Mackie Control (MCU) or HUI protocols. Use Audio Unit multi-out support to individually process instrument sounds or route instruments to discrete channels. Use sidechaining to create the pumping effect familiar in modern music… and so much more. Cubasis 3.3 lets you go pro with ease, while being creative and staying fully inspired.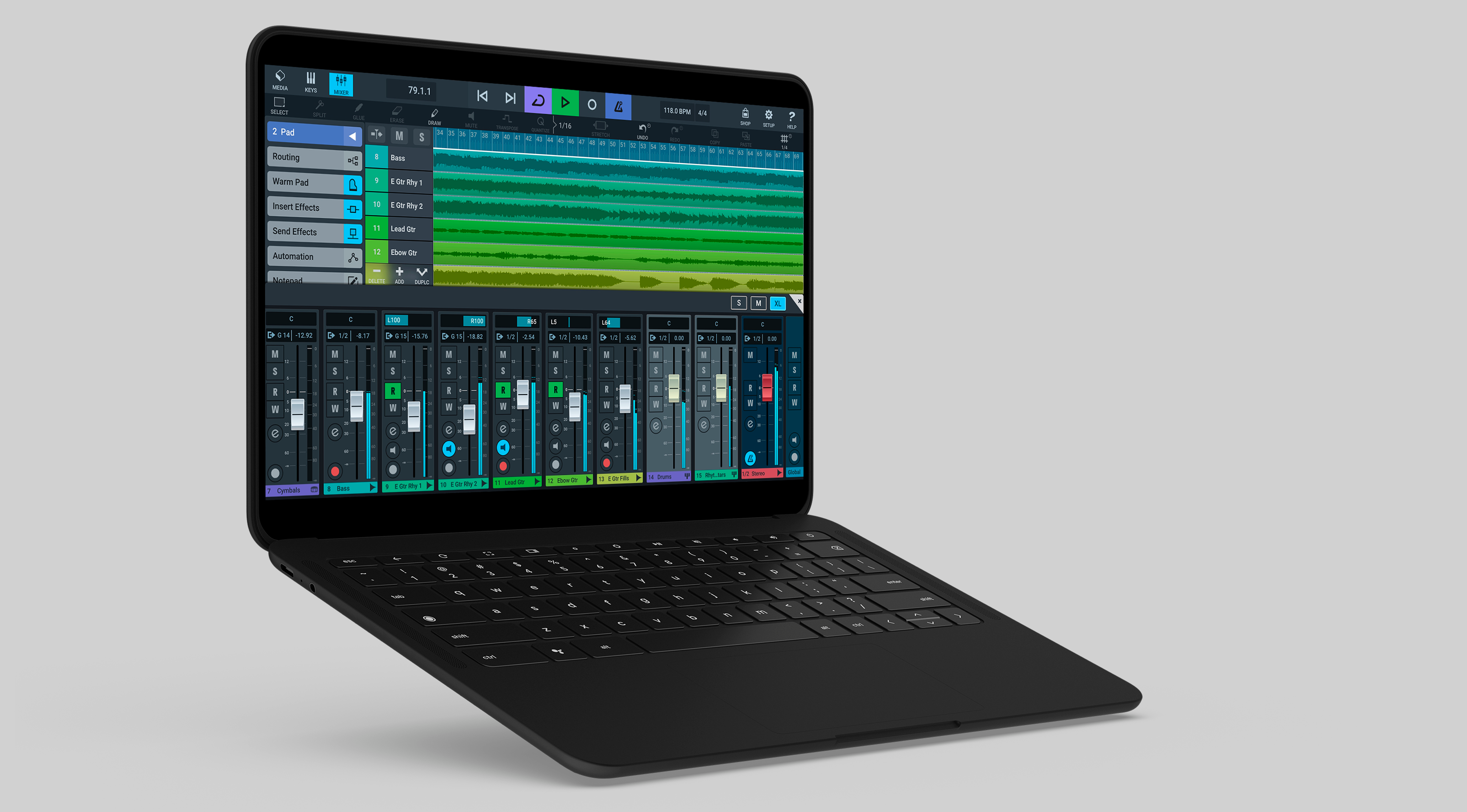 Cubasis 3 on Chromebooks
Musical ideas come when you least expect them and are often gone in a flash. With Cubasis, you always have your mobile DAW with you, because Cubasis is available for all your mobile devices. iPad? Check. iPhone? Of course! Android smartphone and tablet? Sure thing! And now we bring one of the fastest, most intuitive and complete mobile DAWs to the world of Chromebooks, too. Welcome Google (again)! Welcome Chrome OS! Cubasis is ready to capture your ideas whenever and wherever you are.
MIDI Learn, Mackie Control (MCU) and HUI protocol support
Easily control Cubasis remotely, via your external controller. Enable MIDI Learn and simply move a knob or fader on your controller to assign it to a selected parameter. What's more, you can load existing presets for your controller or save your own. And if your controller supports the Mackie Control (MCU) or HUI protocols, you're covered right away too. Yes, it's that easy.
iOS • Android
Audio Unit Instrument Multi Out support
Cubasis is designed to let you focus on creating music. Audio Unit Multi Output support lets you quickly assign the single instrument sounds of a drum kit to individual outputs, or allows you to route individual instruments to discrete channels. Of course, when using these features you can expect unparalleled usability. This really sets our award-winning Cubasis app apart from the crowd.
iOS • Android
Sidechain support
Use a few simple taps to create that classic, warm pumping sound we all love when listening to many genres of music — be it hip hop, pop, heavy techno… you name it. But there is so much more to it. Create punchy kicks, make vocals stand out in the mix or separate frequencies from each other. It's super simple to set up and yet so powerful.
iOS • Android
Extended MIDI routing
Make use of extended MIDI routing options to create inspiring tracks in a snap. Modulate vocals to make them sound robotic, using the new extended MIDI routing options alongside our Waves Tune RT IAP or a third-party vocoder iOS app, manipulated via an existing MIDI track. Explore even more creative possibilities via advanced MIDI track-to-track routing options.
iOS • Android
Improvements
Music always comes first and we don't want anything to get in your way. We want to keep your creativity and enthusiasm flowing as smoothly as possible. Cubasis 3.3 includes many improvements which deliver the best possible performance with the utmost stability. For the complete list of improvements, issues and solutions, please visit us at: www.steinberg.net/cubasisforum.
iOS • Android
What was new in Cubasis 3.2
Multicore-rendering and improved AUv3 performance
Create your music without limits. Cubasis gives you the freedom to use many more third-party Audio Unit instruments and effects plug-ins simultaneously than ever before. Multicore rendering support exploits the potential of newer devices to their utmost. What does this all mean for you? Simply focus on your song, and let Cubasis do the rest.
Find out what was new in Cubasis 3