Second-generation AI processing with a human touch
SpectraLayers 8 delivers a blend of process, tool, and workflow improvements. AI-driven processes now reach across layers to accomplish precision de-bleeding and more. Selection tools now provide more control over harmonics, attenuation, and pitch. Workflow enhancements — including improved ARA 2 DAW integration — bring the magic directly into your DAW project timeline. Immerse yourself in powerful, practical workflows with speed and depth, moving with ease from critical audio rescue missions to the most sophisticated sound design adventures in digital audio.

Smarter AI
Second-generation AI implementation in SpectraLayers includes the ability to work across multiple layers in the De-Bleed process, the introduction of AI in the Reverb Reduction process, and the addition of an alternate AI option in the Voice Denoiser. AI is proliferating quickly throughout the entire application, with all-new processes, improved code in existing AI-driven processes, and supercharged legacy tools with fresh new AI implementations.
Pro • Elements

Ambience Matching
Register a selection anywhere on the spectral graph as a room tone or background texture and apply the sound anywhere in your project. Try this feature in ARA mode on the Cubase and Nuendo timelines for effortless sweetening in post.
Pro • Elements

EQ Matching
Register a selection anywhere on the spectral graph as an EQ profile and apply the profile across layers to achieve sonic conformity. Use this adjustable algorithm at the tracking and mastering stages in music, as well as to establish uniformity in post.
Pro • Elements

De-Bleed process
De-bleed drum kit tracks and other isolated instrument tracks with AI-driven accuracy, but don't stop there — try this new algorithm on other tasks where one layer can serve as the selection basis for operations on another.
Pro • Elements

AI-assisted Reverb Reduction process
Originally launched in SpectraLayers Pro 3, Reverb Reduction is now an AI-fueled process. Identifying and attenuating room resonances has never been cleaner, smarter, or more effective.
Pro • Elements
New and Improved Tools
Improved Voice Denoiser
Perfect for cleaning up location interview recordings, the Voice Denoiser is trained to recognize and isolate the human voice. SpectraLayers Pro 8 now features two AI algorithms to choose from. Together they cover all the bases, from spoken word to sung vocals.
Pro • Elements


Improved ARA 2 integration
ARA 2 integration in SpectraLayers 7 and Cubase Pro 11 introduced the ability to drag and drop layers directly on to the DAW timeline. SpectraLayers 8 streamlines the ARA 2 workflow even further, by allowing multiple independent SpectraLayers projects to exist within the DAW project.
Pro • Elements
Pattern finder
Select a target sound and then trigger a search to automatically locate and select every other similar sound in the spectrum. New in SpectraLayers, multiple complex selections can now be saved with projects and recalled for later use.
Pro • Elements

Also New in SpectraLayers
Refined AI implementation now provides more audible results in addition to user-controlled…
Automatically select harmonics
In addition to using the existing Harmonics Selection tool, you can now select harmonics…
Improved Eraser and Amplifier tools
Optional user-defined upper and lower boundaries on the Amplifier and Eraser tools can now be…
Improved pitch shifting tools
Pitch shifting is now scalable by semitone percentages, for faster and more accurate editing of…
Dynamic visual preview of selections while drawing
Listen to a selection as you make it. Customize selection attributes, such as fades, even during…
Save multiple selections with SLP8 Projects
Now in SpectraLayers Pro 8, you can save multiple selections with your Projects. Recall multiple…
Inter-channel copy/paste functionality
Copy from one channel, paste to another. This new feature is useful in both repair/restore and…
Take advantage of sample rates up to 384 kHz
SpectraLayers Pro 8 is now 384 kHz-capable, extending program functionality to ultra-high-end…
What was new in SpectraLayers 7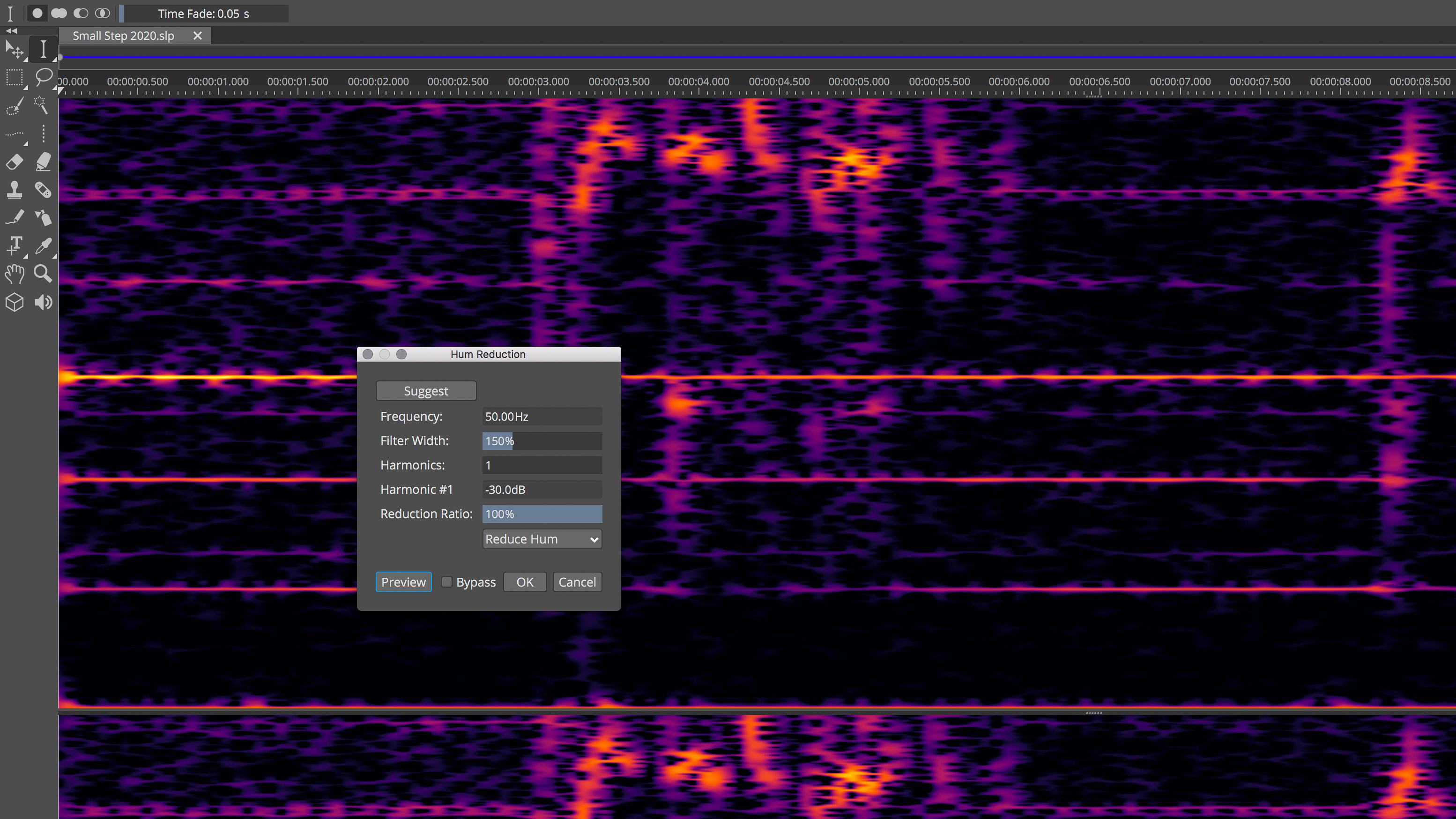 Hum reduction
This automatic process detects and eliminates unwanted hum, as well as higher harmonics generated by the fundamental tone. Hum harmonics can be independently attenuated to the level you choose.