Luca Turilli: To boldly go where no musician has gone before
By Eckhard Doll – February 24, 2020
For over 25 years now, Luca Turilli has been the driving force behind the Italian symphonic metal band Rhapsody (of Fire) and its different incarnations. Luca's youth was influenced by his father who played in orchestras and sparked his passion for classical music. He learned to play the piano and the guitar and ventured out to become one of Italy's internationally acclaimed contemporary musicians.
Luca, I assume that your family background played a key role in the early days of your musical career and your growing passion for classical music? But how did you discover your passion for the metal music genre?
My father was a cello player. I lost him when I was two years old, but it looks like music was in our family's genes and I truly absorbed all his passion and love for classical music. On top, thanks to my mother, I grew up listening to Bach and Beethoven. Once adolescent I fell in love with the melodic Italian and European pop artists (Europe, Duran Duran, Pet Shop Boys, etc.), with trance and some electronic music too. During the first years of high school, some friends connected me with the world of metal. I felt immediately in love with the German band Helloween, as that band was representing the perfect combination between the melodic pop I always liked and the new energy and the powerful impact of the electric guitars I was starting to discover. At the same time, thanks to the movie Batman of Tim Burton, I discovered the world of the movie soundtracks too, considered by me as a sort of "classical music 2.0".

Was it the next logical step for you to combine both?
At that same time, I started liking artists like Yngwie Malmsteen, Jason Becker, Marty Friedman and many other so-called "neoclassical guitar heroes". I fell in love with the guitar and at the age of 16, after purchasing my first Ibanez and a keyboard, I understood that I would devote my whole life to music. My passion for classical music and the movie soundtracks never stopped. On the contrary, while composing my first songs or solos I clearly understood the combination of rock and symphonic/cinematic music was what I was enjoying most. After listening for so many years to Bach and Beethoven, and at a later point also Chopin, which soon became my favorite piano composer, once I started practicing piano at the age of 22, I realized it was quite easy for me to compose original classical interludes in that same style and on top, I was always attracted by connecting the "notes of the past" with the sounds of the future. That's why in many of my albums I compose some baroque parts played by futuristic synths, I have Gregorian choirs moving on modern evolving pads and so on.
I remember that when the first Rhapsody album "Legendary Tales" was released in 1997, it caused quite a stir. I am not aware of other bands who combined metal with classical elements that consequently at that time. You basically created a new metal sub-genre: symphonic cinematic metal. As if that wasn't enough, you started a fantasy storyline concept that spread across the first five Rhapsody (of Fire) albums. One could call this ambitious. Was it easy to find a label to support this masterplan?
I remember I sent the first Rhapsody demo all around Europe to a dozen of record companies or probably even more. We received only two answers and one was the one of Limb Schnoor, one of the first managers of Angra and Helloween. And of course, that answer was soon destined to change my life and the ones of my bandmates. Just before entering the studio in Wolfsburg to record the first debut album with Sascha Paeth (Heaven's Gate, Avantasia) I decided to connect all the lyrics of our songs and create a real "saga" that is based on a strong and positive spiritual message, hymning to the wonders of creation and the miracle of life. In reality the storyline concept spread over ten albums and for the second part of the saga (albums 6 to 10) I had the chance to collaborate and have the amazing Sir Christopher Lee (Star Wars, Lord Of The Rings) as main narrator, who also performed an unforgettable duet with Fabio on the song "The Magic Of The Wizard's Dream".
Over the years, the productions became more complex. How did you handle the pre-productions and the growing number of tracks for orchestra, choir and the other instruments?
So funny to imagine that the first three or four Rhapsody albums were composed on a Korg 01 workstation. Ha ha, I wasted my whole youth waiting for each note to be inserted in that keyboard. Drums, bass, keyboards, classical interludes — all songs created by inserting manually thousands of notes in its sequencer. But that was surely a must as I was always a real "control freak" and everything had to sound perfect before entering the studio and starting the typically long and exhausting Rhapsody productions. Obviously, our lives changed and drastically improved when we purchased the first computer and the first sample libraries.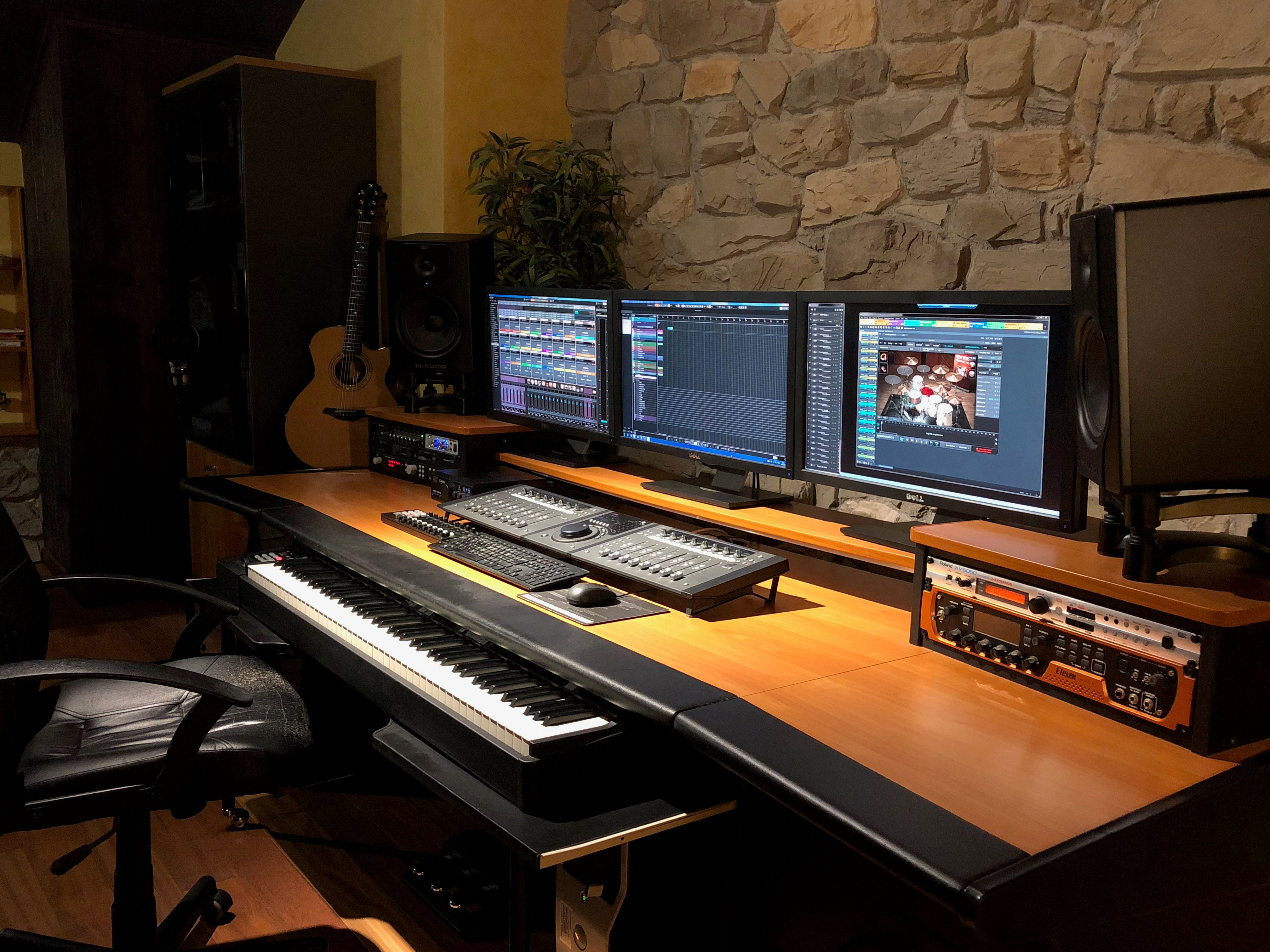 When did Cubase cross your path for the first time, and why did you choose to stick with it?
Cubase entered my life in 1999 when I used it to compose and arrange my first solo album entitled "King of The Nordic Twilight". At that time, I tried and tested a few "competitors" too, but the user interface of Cubase and its immediacy of use made all the difference in the world to me. It was really love at first sight and a true lifesaver after all the years spent working with the Korg sequencer. Since then, Cubase is part of my life on a daily basis, and I am now really proud of being a member of the Steinberg family.
We recently discussed some issues with your 6,000 track template project. Could you tell us a bit about working with such big projects? How are these laid out?
It has surely been an epic deed, around 7 years in the making, and I surely must thank my friend Tobias Escher (Novatlan Sound/Orchestral Tools) for his fundamental collaboration and his technical skills. We built a huge template including all the sample libraries I purchased through the years and allowing me to compose for most music styles and different music projects. Using the same template, I can now compose for all styles of pop, rock, symphonic, ethnic, folk, ambient, trance, electronic, hip-hop or trap music. There are no limits, and it's what I really needed for my future productions. Cubase is making this all possible.
All is laid out in the typical way. The 6,000 tracks are divided into groups and subgroups thanks to the massive use of folder tracks. The traditional band instruments are divided by music genre, the ethnic instruments divided by geographic areas and so on. The most important folder is the one called "Inspiration" where I can find 20 to 30 duplicated tracks featuring the "best of" my template can offer soundwise. Those sounds are essential for me to quickly sketch something easily and so every new composition is basically starting from there.

What kind of system setup is needed to handle such large projects?
I am using one main computer based on an Intel Xeon double processor and two additional "slave" PCs for a total of 256 GB of RAM. All template sounds are located on a total of 8 SSDs (1TB each). Vienna Ensemble Pro is the additional software I am using for Cubase to "communicate" with the sounds located on the main PC and the two slaves. During the years Tobias and I had to face many technical software and hardware related problems, but Cubase helped enormously. In 2018, Cubase 9.5 changed my life as it was the first version of the software allowing me to open a template-based song in 5 minutes. Of course, before opening any new project, something like extra additional 10 minutes are needed for all the template sounds to load into the RAM of the main computer and the slaves via the Vienna Ensemble Pro software. My actual daily routine turned out to always be the same: wake up, switch on the PCs and have breakfast while waiting for everything to be loaded. At that point I am "ready to go" with all the instruments that exist in the world now playable on my master keyboard. What an amazing sensation and definitely a true composer's dream. When you work with a similar system you can't go back anymore.
In 2016, your album "Prometheus, Symphonia Ignis Divinus" was the first studio album ever to be remixed in Dolby Atmos. Producer/mixing engineer Chris Heil (David Bowie, Bryan Adams) took over the mixing duties. I can imagine that this must have been an exciting experiment, having another dimension added to the music?
I felt really honored to have my album chosen by Chris Heil and his partners of Dolby and Yamaha for such a historical remix. "Prometheus, Symphonia Ignis Divinus" was probably my most ambitious album ever and when Chris listened to it, he immediately thought that, once mixed in Dolby Atmos, it could be the perfect music for Dolby and Yamaha to promote their first Dolby Atmos systems on a worldwide scale. The collaboration started, Chris worked on the mix for almost one month and when I went to Munich to listen to the result it was pure adrenaline. That additional dimension provided by the new Dolby technology was making all the difference in the world for an album like that full of symphonic and cinematic modern arrangements and on top I was finally able to hear the details of all the instruments that used to "suffer" in the previous and traditional album mix due to the typical clash of frequencies. Such collaboration certainly represented a prestigious step in my career, and I am glad to know an incredibly experienced and talented person like Chris Heil with whom I am still in contact to eventually work on future projects.
With all these large scale-productions and superlatives, has there ever been a desire to record on a 24-track tape machine or produce a punk rock band?
Well, I can't hide that after so many years of searching for the most bombastic, epic and cinematic impact in my music, I am often feeling the need to compose something still emotional, heart-touching but certainly more intimate too. In this moment of my life I am in love with the acoustic piano, and such a wonderful instrument can really help in these situations. Also, my acoustic guitars can be often a good replacement for my electric guitars when my ears need to rest. And in the near future, having planned some more intimate projects already, a 24-track tape machine could definitely be the cherry on the cake.

With the latest Rhapsody incarnation "Turilli/Lione Rhapsody" it seems like you have come full circle now, re-joining forces with the former Rhapsody (of Fire) vocalist Fabio Lione. It is almost as if you wanted to preserve the traditional side of Rhapsody as a foundation and build a modern concept on top of it which could be considered something like "Rhapsody 2.0".
Well, we recently played a successful "farewell tour" for almost two years around the world and the initial intention was to close the Rhapsody chapter once and for all after our last show. Fabio and I are no longer listening to the music we played in the early years and had different artistic plans in mind. We can say that the promoters and the fans, considering the success of that tour, basically convinced Fabio and me to go on with Rhapsody (laughs). Of course, we agreed to such plan and to use the same band name only if we could bring something really new to the table, combining our typical symphonic metal approach with all the modern music we like to listen to nowadays, evolving the sound, the image and the lyrical concept of the band to new horizons. To make this more than clear we agreed to entitle the album "Zero Gravity (Rebirth And Evolution)" and filled it with what we both love: vocal interludes à la Queen, progressive elements à la Dream Theater, electronic, ethnic music and more. The lyrics are all about science, metaphysics, psychology, anthropology and in general related with the mysteries of life — my greatest passion after what I started discovering thanks to my yoga and meditation practices.

You will embark on a two-month tour through Latin America and Europe in March.Is Cubase going to be part of the tour in any way? Be it on stage or only to record new ideas in the tour bus?
Cubase is always on my laptop and travels with me in case something goes wrong with the playback machines we use on stage and/or I should modify some playback levels on the fly. But unluckily there is really no time for compositions or additional work on the road. I wake up, I make the sound-check, meet the fans who purchased their VIP tickets, I have dinner, I play and go immediately to rest listening to Adele or to some piano music necessary to relax my ears. To be honest, life on the road is not my thing. Of course, I love meeting the fans and those two hours while performing on stage, but all the rest can be very boring (laughs). I don't drink, I am not a party guy and I prefer working at home, composing and arranging music in my private studio. I am a workaholic and typically spend 10 to 14 hours per day with Cubase and my machines, Saturday and Sunday included.
Is there anything else from you that we can look forward to in 2020?
Well, I am known for being a "universal composer" in the sense that I love music 360°. I listen to everything and I am simply unable to work on a specific music style exclusively for a very long time. For example, before Rhapsody I started writing trance, ambient and electronic music which was always a love of mine and you can hear it on most of my solo albums. At the moment I am listening to a lot of modern pop/rock artists and since years Adele is my favorite singer, able to deeply touch my heart thanks to her unique vocal color. For all these reasons I feel the constant need to evolve and explore the world of music by creating new projects, finding new artistic goals and stimulations. This year, aside from being on the road with Turilli/Lione Rhapsody, I will be working on the debut album of my new band presenting a modern pop/rock sound in the style of some of my actual favorite bands like Muse and Imagine Dragons, enriched by electronic, ethnic music and all those symphonic elements which are now a real trademark in my discography. Also, with the piano being my favorite instrument, I started working on my first album of "emotional cinematic piano", featuring original piano solo instrumentals sometimes enriched by a few orchestral and choral parts, in the tradition of artists like Yann Tiersen, Ludovico Einaudi and Yiruma, some of the well-known piano composers of our time and a true inspiration to me — the faithful Cubase always being my partner in crime while serving me greatly with each new update.