Instruments of Metal and Ice
Melt extraordinary sounds of a masterfully sampled brass ensemble and various metal-based instruments into rare analog and digital synthesizers, along with sound effects recorded with ice and all kinds of metal objects. Focusing on extended playing techniques, unusual recording methods and deeply processed sounds, the fusion of these sources is combined with powerful modulation options, FX processing, wavetable synthesis and the granular engine. Together, they have created the perfect playground for creative ideas and an extraordinary instrument for cinematic productions.
6.5 GB of unheard sounds, created from various instruments, synths, metal objects and ice
Features extended playing techniques recorded by a 12-piece brass ensemble
More than 150 masterfully crafted cinematic presets by Magnetic 96
Up to four material layers with multi-samples, wavetables and granular samples

The sound sources within Materials – Metal and Ice include a wide range of metal and ice objects, from musical, metal-based instruments to field recordings and rare synthesizers like the Synclavier and a large modular system. They cover a 12-piece brass ensemble, e-pianos, metallophones, industrial machines and everyday objects like ice cubes and steel beams. Most of the sounds were created in unusual ways, delivering custom sounds and extended articulations. In addition, processing the samples with vintage and modern outboard gear was key to achieving truly unique sound colors. The goal was to create a cinematic instrument, whose "raw materials" are already full of character and personality, then shaping these further with everything that HALion has to offer. These range from filters to distortion; from wavetables to granular synthesis. The result is an instrument full of creative potential and high-end sound options, which is just waiting to be unleashed on your next production.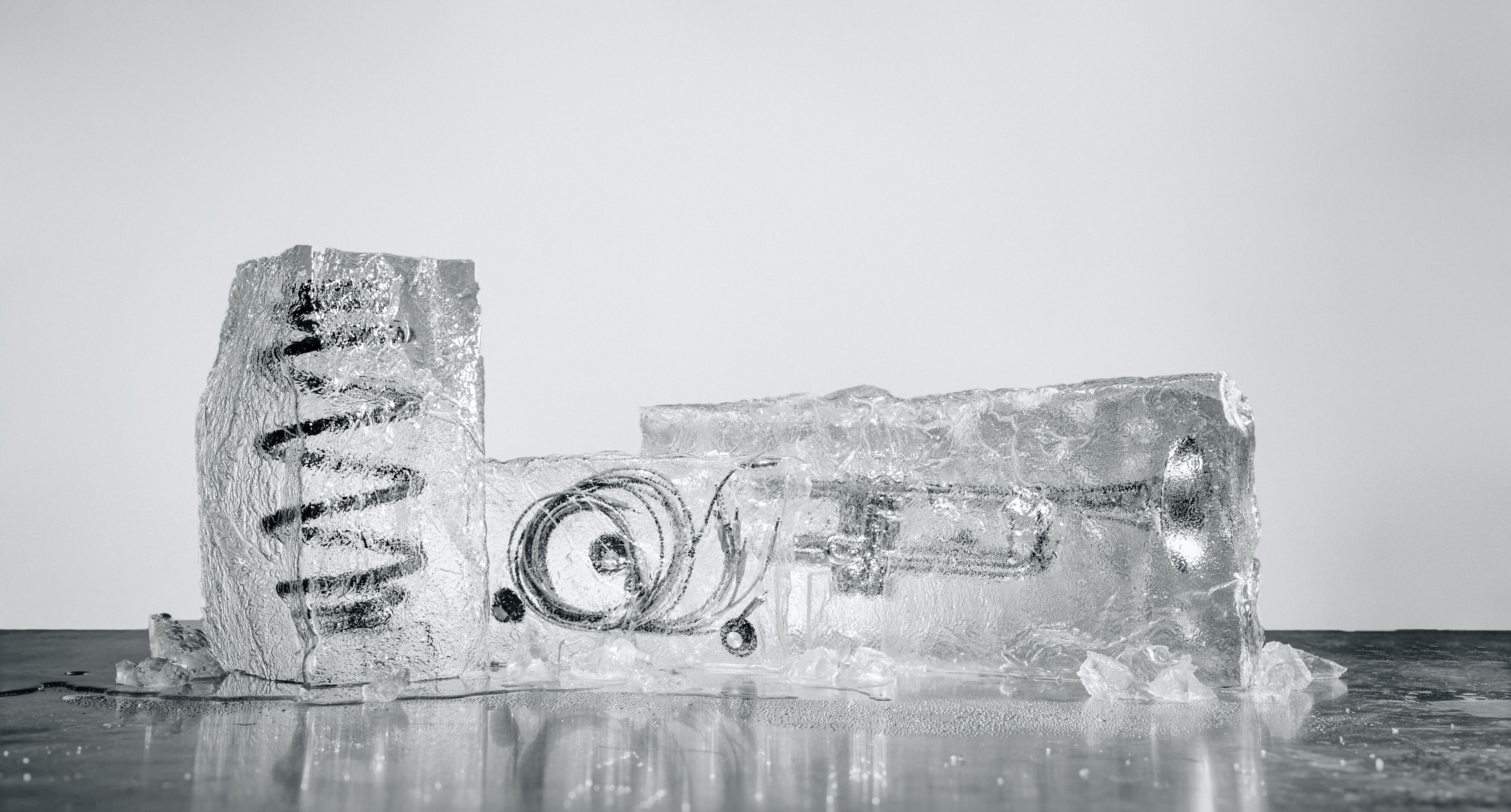 Ice and metal: Experimental ways of sound creation
Explore the endless opportunities of ice and metal. The materials themselves offer a breadth of sound sculpting options, like scratching, beating, rattling and bowing. But the really new only evolves from the combination of the two materials. Working with dry ice to get metal resonating, freezing strings and bowls, playing with ice picks; the sampling sound design explores areas far away from anything you ever heard before.

Designed by Magnetic 96 and Steinberg
Magnetic 96 has teamed up with Steinberg's HALion team to create one of the most outstanding sampled-based instruments in years. With more than 35 years of combined experience in sound design, Tobias Menguser and Stephan Lembke — known together as Magnetic 96 — joined forces for this project and did all the recordings and sound design. Tobias has worked for Native Instruments, Heavyocity and Softube and has done sound design for well-known US movie trailers, like Star Wars and Avengers. Stephan has many years of experience in the field of sample-based virtual instruments and has been involved in projects for Native Instruments, among others. He is also a producer of sample content for Yamaha Music Europe's keyboard hardware.
Get inspired with VST Instruments
Producing a synthwave track

Preset Walkthrough of Neon Drifts

Fate Takes Its Course by Martin Wiese

How to create a haunting Halloween theme

Behind the Scenes of a Demo Track for Iconica Opus

Building A Neo-Soul Groove with Vibrant

Writing a 1980s-style horror movie trailer

How to produce a pop track with Iconica Ensembles

Voltage Controlled Synthesizer

Performance Xantone Blacq

Playing Vertigo Strings